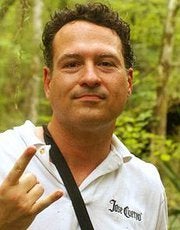 Marcus Kempton
AR235 Pictures
Director/Producer/Screenwriter
Tampa Bay, FL
facebook.com/aspectratio235
Marcus Kempton is a screenwriter, producer, director of feature-length motion pictures residing in Tampa Bay.

He is classically trained in film production and is a graduate of Valencia College's Film Production Technology program, led by the late Ralph Clemente, (the famous Bavarian) and declared by Steven Spielberg as "One of the best film schools in the country".

In 2010, Marcus founded AR235 Pictures, LLC-a cinematic motion picture production company which has produced or co-produced several short and feature-length films, all in the Tampa Bay, FL region.